photo credit here
By now we've all heard about the "shop your closet" trend.  We've heard about other things people are doing in the recession that are generally based on making the most of what you already have in your closet, or what you can find second-hand. 
Since I already do a lot of this, I'm going to formalize it.  I'm going to try something new, and more disciplined.  I'm taking the pledge to be a "Wardrobe Refashionista" for the next two months.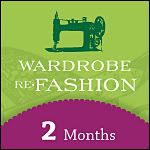 What does this mean?  From the website:  "Wardrobe Refashion is a community which has had an online presence since early 2006. Based in Melbourne, Australia, owner Nichola Prested started up the site after deciding to quit buying new manufactured clothing in a bid to do her part for the planet, save money and improve her sewing skills."
what will I have to do? 
Again from the website:  "Participants of the blog pledge to abstain from the purchase of new manufactured clothing for the period of 2, 4, 6 months or LIFE. They pledge to refashion, renovate, and recycle preloved items with their own hands in fabric, yarn or other medium or make their own from scratch." 
THE PLEDGE
Here I go: 
I, Sallymandy, pledge that I shall abstain from the purchase of "new" manufactured items of clothing, for the period of 2  months. I pledge that i shall refashion, renovate, recycle preloved items for myself with my own hands in fabric, yarn or other medium for the term of my contract.
I pledge that I will share the love and post a photo of my refashioned, renovoted, recycled, crafted or created item of clothing on the Wardrobe Refashion blog, so that others may share the joy that thriftiness brings!
Signed, Sallymandy.
BUT WAIT, THERE'S MORE!
I'm also going on a spending hiatus for two months, during which I will not even buy clothes at second hand stores. 
but why, Santy Claus?  Why are you taking our shopping away?  Why? 
Because I have too many choices in my closet, and not enough discipline!! 
Because I often don't like what I find exactly as it is anyway. 
Because it's a great creative outlet that doesn't cost much money.
Because I like having clothes that are different from everyone else's. 
So instead of adding to my piles, I'll be sorting, purging, retrofitting, tailoring, or otherwise altering what I already have,  using the elements of design I understand, and what I know about body shape and fit, and color, and things like Rit dye and seam rippers. 
I'll use this, my twenty-eight year old Viking Husqvarna Classica 100: 
and these: 
and these: 
It's going to be fun!  I can't wait!  I'll keep you posted!  And in the meantime,
would anyone like to join the community of refashionistas, too?